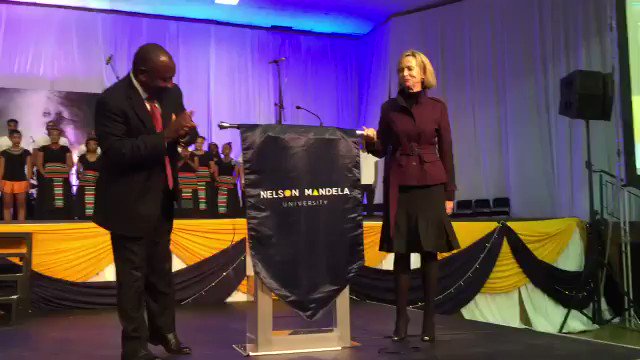 Deputy President Cyril Ramaphosa says the newly launched Nelson Mandela University must strive to uphold all the values the icon it is named after stood for, including non-racialism, non-sexism, honesty, truth and integrity.
Ramaphosa delivered the keynote address at the university's official renaming ceremony at its Missionvale Campus on Thursday (20/07/17).
"This university is situated in a society and continent still ravaged by three burdens, that of inequality, poverty and unemployment. It must seek to answer those social and economic challenges," Ramaphosa said.
Other speakers such as Advocate George Bizos, former Chief Justice Dikgang Moseneke and chancellor Santie Botha, vice chancellor Derrick Swartz and mayor Athol Trollip said the university must emulate all the values Mandela stood for as it took on its new name.
Bizos, who reminded the audience of his relationship with Mandela, said: "This new name is an honour he would have been proud of."
Earlier, outgoing vice chancellor Derrick Swartz said the new name would allow the university to reflect its international character as it has students from 14 different countries.
"We have this incredible name of this titan whose legend and legacy dwarfs anything we have seen in recent years," he said.
He called on students to strive to solve consistent challenges of poverty, unemployment and inequality.
Lee-Anne Butler- HeraldLIVE